Το 1895, ο Lewis Sayre (1820-1900) – θεωρούμενος ως ένας από τους ιδρυτές της ορθοπεδικής χειρουργικής – πρότεινε τη θεραπεία της σκολίωσης με ανάρτηση. Σύμφωνα με τον Sayre, οι ασθενείς θα πρέπει να κρεμαστούν από τα χέρια τους μέχρι να αιωρούνται σχεδόν εξ ολοκλήρου από το έδαφος, οπότε οι σκολιωτικές τους παραμορφώσεις θα μπορούσαν να ευθυγραμμιστούν και ένας γύψος να εφαρμοστεί για να τα κρατήσει όλα στη θέση τους. Η γύψινη αυτή επικάλυψη του θώρακα του ασθενή ονομάστηκε "Sayre's Jacket" – Το τζάκετ του Sayre.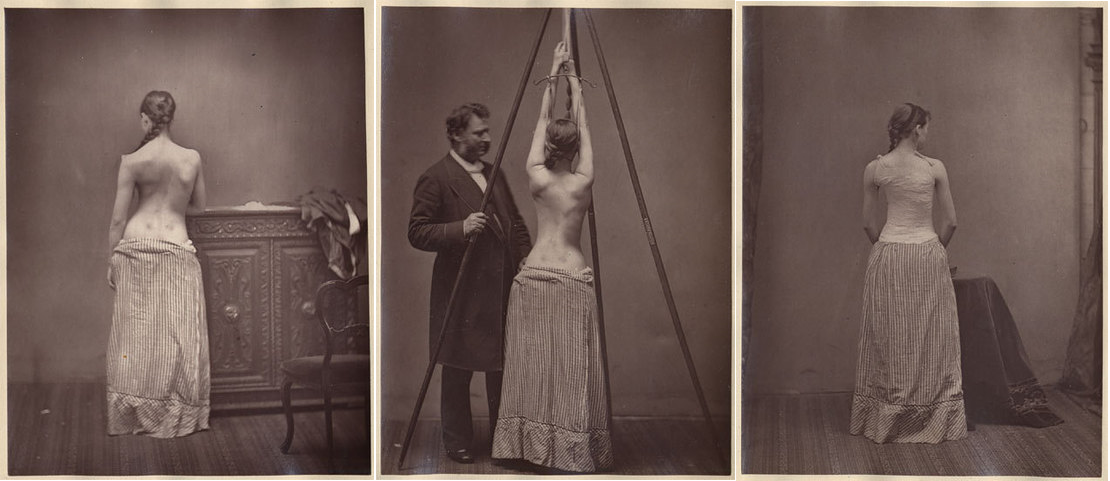 Η τεχνική ήταν αμφισβητήσιμη, αλλά βοήθησε στην ανάπτυξη σύγχρονων μεθόδων χρήσης κηδεμόνα για την συντηρητική θεραπεία της σκολίωσης
Έναν αιώνα και πλέον αργότερα, η συντηρητική θεραπεία με κηδεμόνα μπορεί να είναι επιτυχημένη, σε συνάρτηση με την ποιότητα του κηδεμόνα, την διόρθωση που επιτυγχάνεται εντός κηδεμόνα αλλά και την συμμόρφωση του ασθενή με το πλάνο θεραπείας. 
sources:
Sayre, Lewis Albert. Spinal Diseases and Spinal Curvature. Their Treatment by Suspension and the Use of the Plaster of Paris Bandage. London, Smith, Elder, & Co., 1877.
https://hagstromerlibrary.ki.se/